Vneuron is recognized as an Enterprise Solution in Chartis RiskTech Quadrant for KYC Solutions 2022
We are thrilled to announce that Vneuron has been chosen as an Enterprise Solution among a handful of top-tier AML technology providers in the KYC Solutions' Chartis Quadrant for its 2022 report.
KYC Solutions have been evolving through the years to stay ahead of the changing market needs and regulatory requirements. Financial Institutions' concerns are now beyond cost saving and efficiency. New concerns include automation capabilities, usage of advanced technologies such AI and ML, Cloud enablement, geographical variation, and the increasing layers of screening. KYC is not only about knowing the immediate client but also KYB (Know Your Business) and KYCC (Know Your Customer's Customer).
Indeed, Vneuron has been designated by Chartis Research, an independent firm specializing in research and analysis of the global risk technology market trends, in its latest report published in October 2022 for KYC solutions as an Enterprise Solution.
This positioning is conferred exclusively on technology platforms that combine the breadth of features and comprehensive data management, analytics, and collaboration.
What is an Enterprise Solution?
Chartis Research refers to "Enterprise solutions providers typically as a provider who offers risk management technology platforms, combining functionally rich risk applications with comprehensive data management, analytics, and BI. A key differentiator in this category is the openness and flexibility of the technology architecture and a 'toolkit' approach to risk analytics and reporting, which attracts larger clients. Enterprise solutions are typically supported with comprehensive infrastructure and service capabilities, and best-in-class technology delivery. They also combine risk management content, data, and software to provide an integrated 'one-stop-shop' for buyers".
This international recognition is a great consecration of the valuable efforts of Vneuron's multidisciplinary teams involved in the product, research, development, and integration.
It is also the result of our ultimate vision to offer a platform that is both complete in terms of regulatory coverage, but also modern, flexible, and scalable. This is what made it possible to place Vneuron ahead in terms of the completeness of the solution compared to several other historical players.
With a deep solution set that includes a strong risk scoring engine, Vneuron has expanded on its position in Middle Eastern markets by cross-selling and climbing the value chain from smaller institutions up to Tier 1s,' 'Its position as an Enterprise Solution in the Chartis KYC Solutions RiskTech Quadrant reflects its strong growth and ongoing solution development.'Phil Mackenzie, Research Principal at Chartis.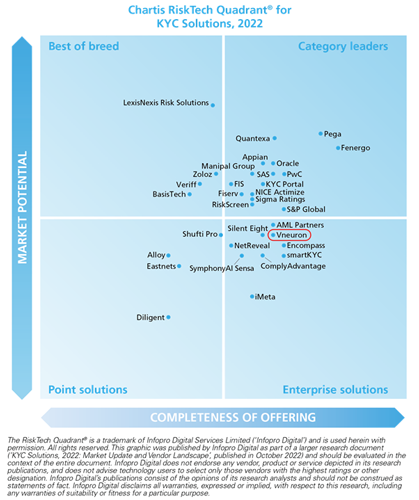 How to read this quadrant?
This quadrant is composed of two axes. The horizontal one represents the "Completeness of Offering" which depicts vendor ability to cover a wide range of customer needs in terms of features, regulatory coverage, reporting and dashboarding, KYC risk scoring, customer profile enrichment with additional data, customer onboarding and efficiency. The vertical one "Market Potential" assesses the market coverage and growth in terms of customer satisfaction, market presence, growth strategy, business models and financials of the solution providers.
The overall quadrant was gathered from 32 solution providers that have been in the market for decades. The positioning shows that Vneuron is in the 95 percentiles of the most remarkable included providers in terms of completeness of the offering. It also illustrates the great potential of Vneuron in terms of market potential all thanks to its rapid growth across the 4 continents and its tripled Annual Revenue each year.
About Vneuron
Global leader in AML compliance solutions helping more than 200 customers in the digitalization and transformation of their compliance processes and systems in more than 55 countries. Its complete Risk and Compliance solution covers name and sanction screening, transaction filtering and monitoring, automated risk assessment and alert generation, and reporting.
About Chartis
Chartis Research is the leading provider of research and analysis on the global market for risk technology. It is part of Infopro Digital, which owns market-leading brands such as Risk and WatersTechnology. Chartis' goal is to support enterprises as they drive business performance through improved risk management, corporate governance, and compliance, and to help clients make informed technology and business decisions by providing in-depth analysis and actionable advice on virtually all aspects of risk technology. Chartis focuses on risk and compliance technology, giving it a significant advantage over generic market analysts. The firm has brought together a leading team of analysts and advisors from the risk management and financial services industries. This team has hands-on experience in developing and implementing risk management systems and programs for Fortune 500 companies and leading consulting firms. Visit www.chartis-research.com for more information.