Vneuron Is Recognised As A Category Leader In Chartis RiskTech Quadrant For KYC Solutions 2023
We are thrilled to announce that Vneuron has been chosen as Category Leader in the 2023 RiskTech Quadrant for KYC Solutions among a handful of top-tier AML technology providers.
Vneuron, a global leader in AML compliance solutions, is delighted to share a significant milestone. Building upon last year's recognition as an Enterprise Solution by Chartis Research in the KYC Solutions quadrant, Vneuron has once again proven its excellence by securing the prestigious title of "Category Leader" in the 2023 RiskTech Quadrant.
The landscape of KYC Solutions has rapidly evolved to meet the ever-changing market needs and stringent regulatory demands. Today, financial institutions seek more than just cost-efficiency; they crave cutting-edge capabilities that leverage state-of-the-art technologies, including Artificial Intelligence and Machine Learning, cloud integration, global adaptability, and fortified screening protocols.
The scope of KYC has grown beyond simple client identification, now encompassing KYB (Know Your Business) and KYCC (Know Your Customer's Customer), reflecting a more comprehensive understanding of the ecosystem in which businesses operate.
Chartis Research, renowned for its independent analysis of global risk technology trends, has once again recognized Vneuron in its latest report published in September 2023. This time, Vneuron's ascent to Category Leader status is a reflection of its exceptional breadth of features, comprehensive data management, advanced analytics, and collaborative prowess.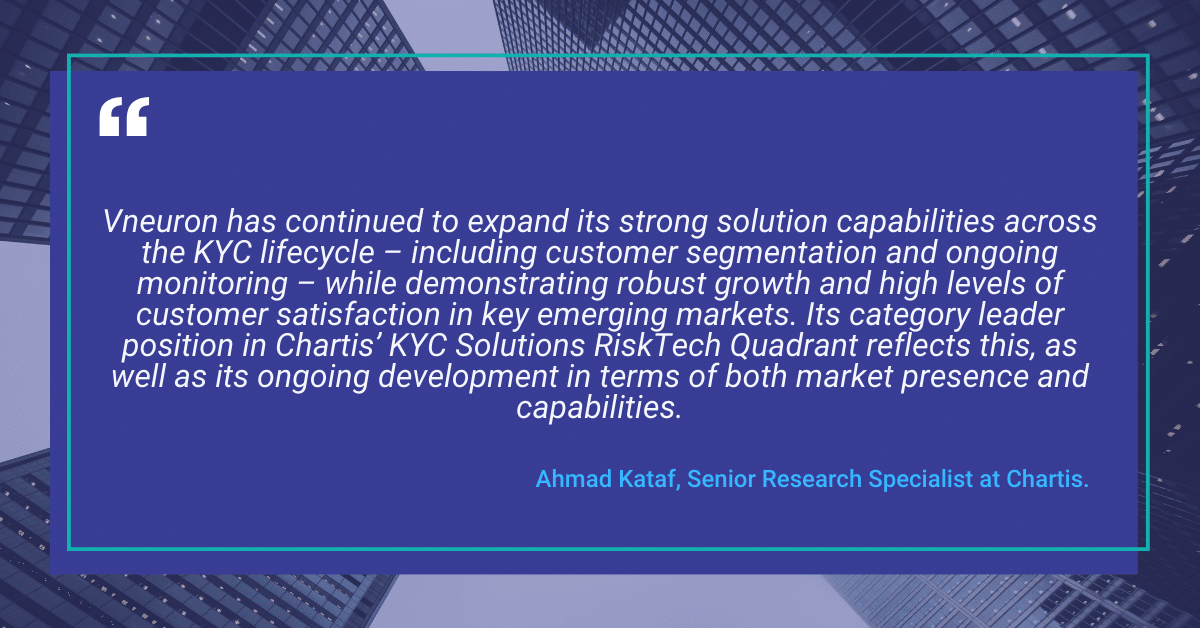 What is a Category Leader?
Chartis Research defines "Category Leaders" as technology providers distinguished by their ability to seamlessly integrate a wide array of functionalities, cutting-edge technology, and comprehensive content. They possess the essential organizational attributes needed to secure a substantial share in their respective markets. These leaders not only showcase a well-defined strategy for achieving sustainable and profitable growth but also excel in delivering best-in-class solutions. Their offerings span a diverse spectrum, demonstrating versatility, sector expertise, and financial resilience to navigate fluctuations in demand within specific industry sectors or geographic regions.
Category leaders will typically benefit from strong brand awareness, global reach, and strong alliance strategies with leading consulting firms and systems integrators.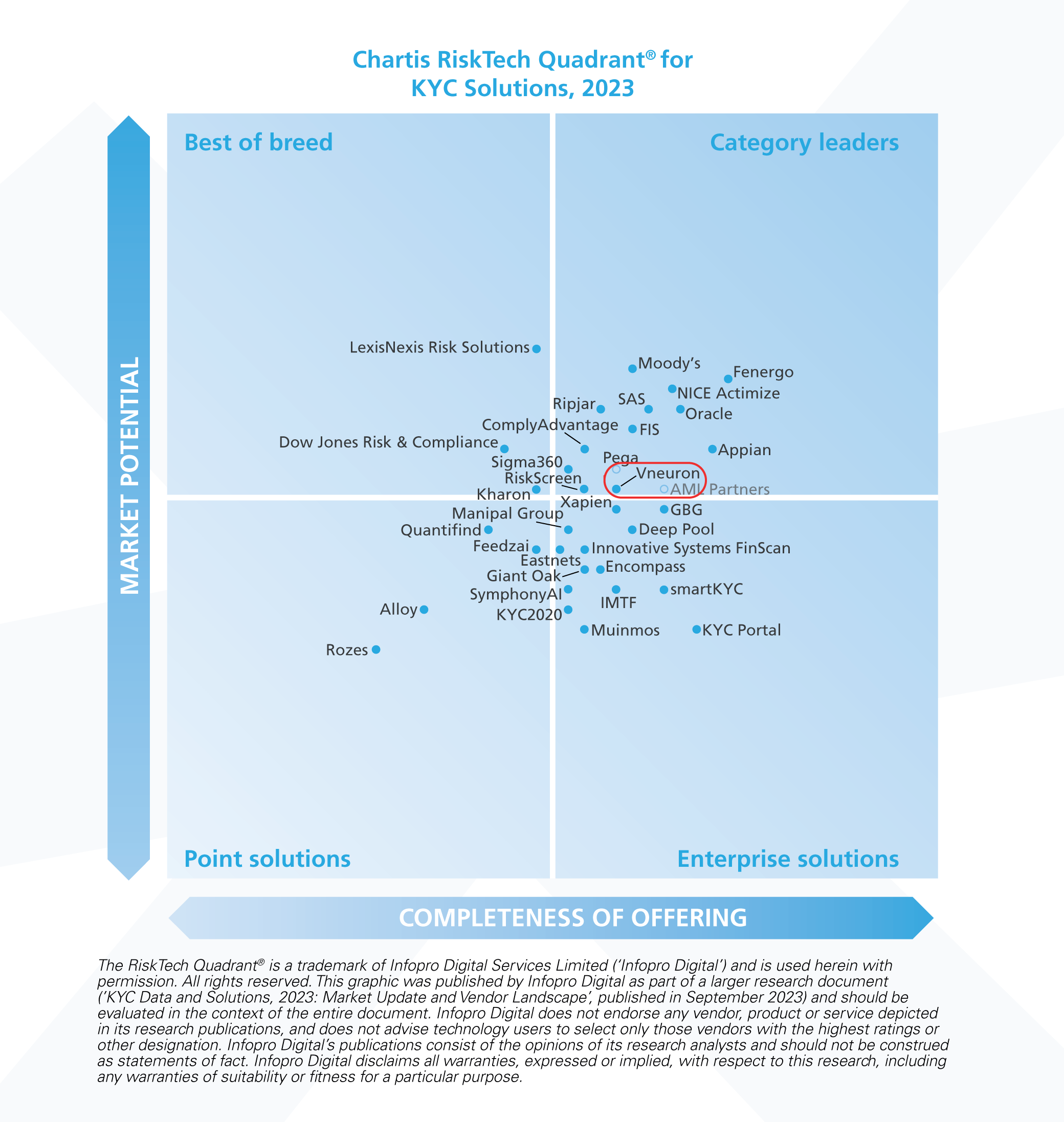 How to Interpret the Quadrant
Interpreting the quadrant involves assessing two main aspects:
Completeness of Offering: This evaluates the depth and breadth of software functionality, data management capabilities, and risk analytics. It emphasizes user-friendliness and the ability to link risk to performance.
Market Potential: This considers the vendor's business model, market presence, financial stability, customer satisfaction, and growth strategy. It examines factors like implementation quality, market reach, financial performance, and customer feedback to gauge the vendor's market position and growth potential.
Vneuron's placement in the quadrant highlights its position among 35 prestigious technology providers, signifying exceptional completeness in its offerings. Furthermore, it underscores Vneuron's significant potential for market growth, propelled by rapid expansion across four continents and an annual revenue increase of more than threefold each year.
About Vneuron
Vneuron is a global leader in AML compliance solutions, serving over 200 customers globally in their digitalization and transformation of compliance processes and systems. The comprehensive Risk and Compliance solution offered by Vneuron covers name and sanction screening, transaction filtering and monitoring, automated risk assessment, alert generation, and reporting.
About Chartis
Chartis Research stands as a leading provider of research and analysis in the global risk technology market. A part of Infopro Digital, known for market-leading brands like Risk and WatersTechnology, Chartis is dedicated to aiding enterprises in improving risk management, corporate governance, and compliance to enhance business performance. Chartis leverages its in-depth analysis and actionable advice to guide technology and business decisions, with a focus on risk and compliance technology.
Visit www.chartis-research.com for more information.