Vneuron listed as Enterprise solution in Chartis' latest report for Watchlist Screening and Monitoring Solutions 2022
Vneuron Risk and compliance paved its way on Chartis' latest report ranking all market leaders in watchlist and Monitoring solutions for the year 2022. The report has been broken down to three major segments: Name Screening, Transaction Screening, and Transaction Monitoring. Vneuron's Solution Reis™ Risk and Compliance was ranked an Enterprise Solution in all categories thanks to its completeness and breadth of functionalities.
Market leaders have managed to leverage a broad set of capabilities to enrich Financial Institutions' experience in terms of data and transaction management. Medium specialists now offer tailored and flexible solutions to accommodate new market needs and financial crime schemas for more efficient compliance processes.
In this report Chartis depicts the new trends and major updates in the vendor landscape regarding Name and Account Screening, Transaction/Filtering, and Transaction Monitoring. under a wider umbrella of Financial Crime Management systems: Watchlist Monitoring Solutions 2022.
Among 24 studied vendors, Vneuron is recognized among Enterprise solutions for the 3 quadrants mapping vendors positioning based on their solutions for Name and Account Screening, Transaction/Filtering, and Transaction Monitoring.
What is an enterprise solution?
An enterprise solution is a solution provider who offers risk management technology platforms, that combines risk applications, data management, analytics and business intelligence.
The scope of this quadrant in which Vneuron has been named Enterprise Solution is the financial crime risk management systems:  watchlist screening and monitoring solutions provided by Chartis this year.
This category is mainly marked by the technology architecture flexibility and its toolkit approach to risk analytics and reporting, which makes it more attractive to clients.
Enterprise solutions are a great way to get access to best-in-class technology delivery, as well as comprehensive infrastructure and support services. They also usually come with risk management data and software included, which makes them a convenient 'one-stop-shop' for companies looking to purchase them.
Vneuron is indeed honoured by this recognition as it consolidates its promise for its clients to ensure quality, robustness, and full regulatory coverage across its different solution namely Name screening, transaction screening and transaction monitoring.
After careful study of top tier solution providers this is what Phil Mackenzie Principal researcher at Chartis testified about our solution.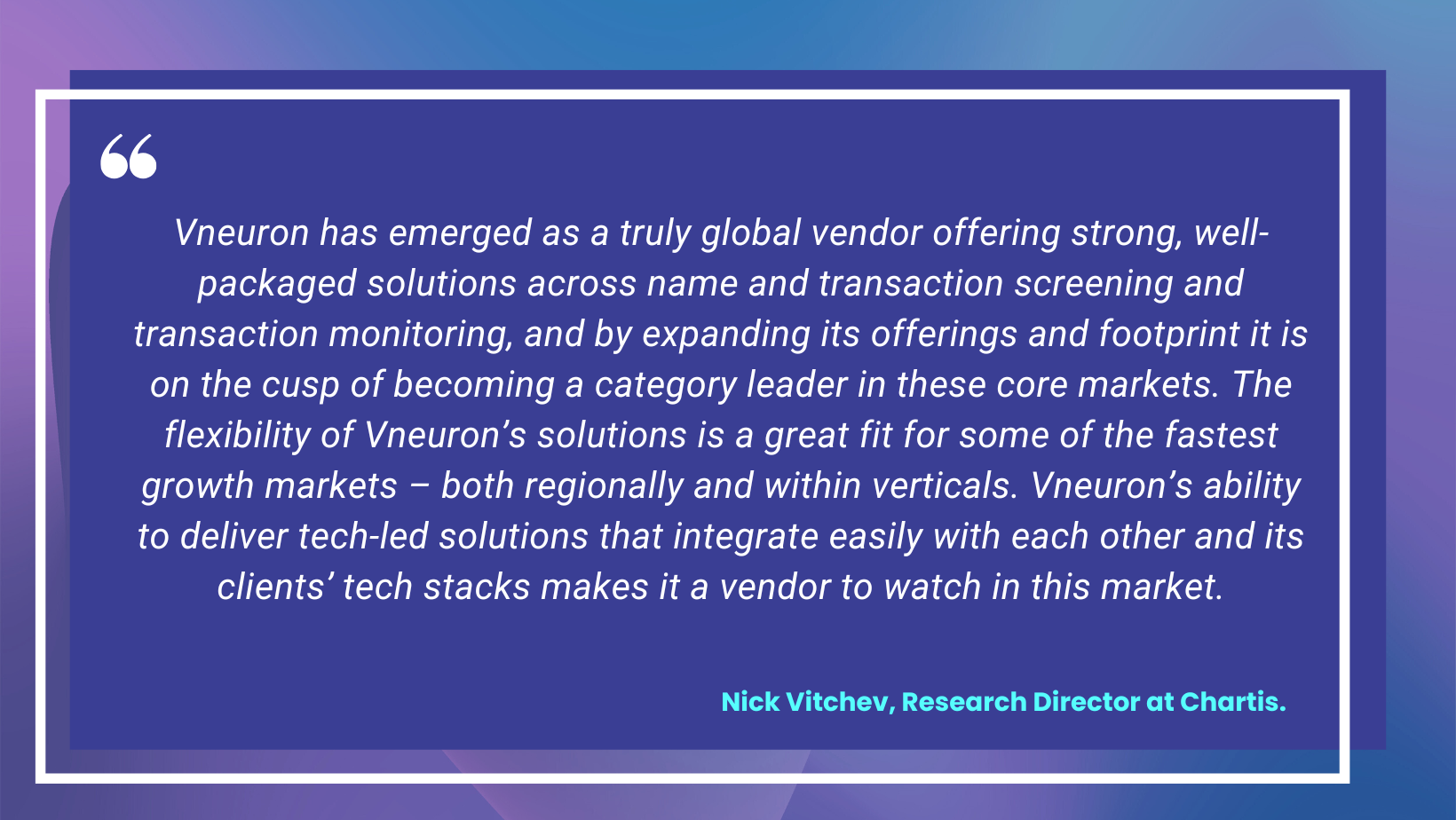 Before diving into the specificities of each quadrant, let's explore the assessment criteria and how to read the quadrants. It is composed of two major key dimensions :
Completeness of offering: illustrating the vendor's capability to show the depth and breadth of its solution's functionalities, data management and technology infrastructure, risk analytics, reporting, and presentation layer
Market potential: assessing the vendor's business model, market penetration, financials, customer satisfaction, and growth strategy.
The two dimensions divide vendors into 4 categories:
Point Solution:  focus on a small number of component technology capabilities, meeting a critical need in the risk technology market by solving specific risk management problems with domain-specific software applications and technologies.
Best of Breed: having best-in-class point solutions and the ability to capture significant market share in their chosen market.
Enterprise Solution: typically, providers offer risk management technology platforms, combining functionally rich risk applications with comprehensive data management, analytics, and BI
Category Leaders: demonstrate a clear strategy for sustainable, profitable growth, matched with best-in-class solutions and the range and diversity of offerings, sector coverage, and financial strength to absorb demand volatility in specific industry sectors or geographic regions.
The report came with 3 detailed quadrants to assess providers on Name Screening, Transaction Screening, and Transaction Monitoring. Below are the detailed quadrants:
Vneuron Risk and compliance is ranked Enterprise solution for sanctions screening solutions: Name screening 2022: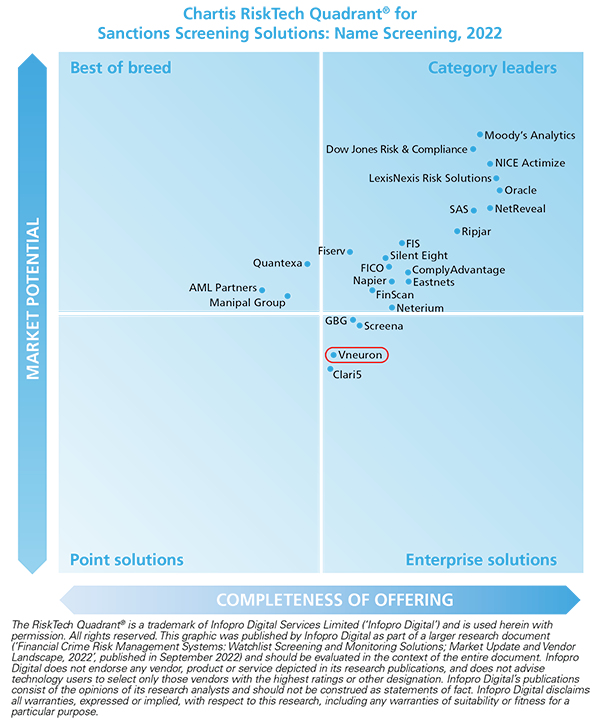 Regulations have tightened, and identity verification has remained a critical aspect of the onboarding and maintenance of accounts.
In the Sanction screening Quadrant provided by Chartis, Vneuron holds the position of being an enterprise solution among other name screening solution providers. This puts Reis™KYC in a prime position to serve the needs of financial institutions that want to cover all customer due diligence aspects.
Our solution is designed to help financial institutions ensure they are staying compliant with rules and regulations related to sanctions, Politically Exposed Person, and Politically Exposed Professionals.
Our solution is ideal for financial institutions who are seeking to improve the efficiency of their operations and ensure that they are compliant in the digital era. It allows financial institutions to proactively manage digital records, improve their due diligence procedures and make better decisions regarding risky clients.
Vneuron Risk and compliance Enterprise solution for sanctions screening solutions: Transaction screening 2022: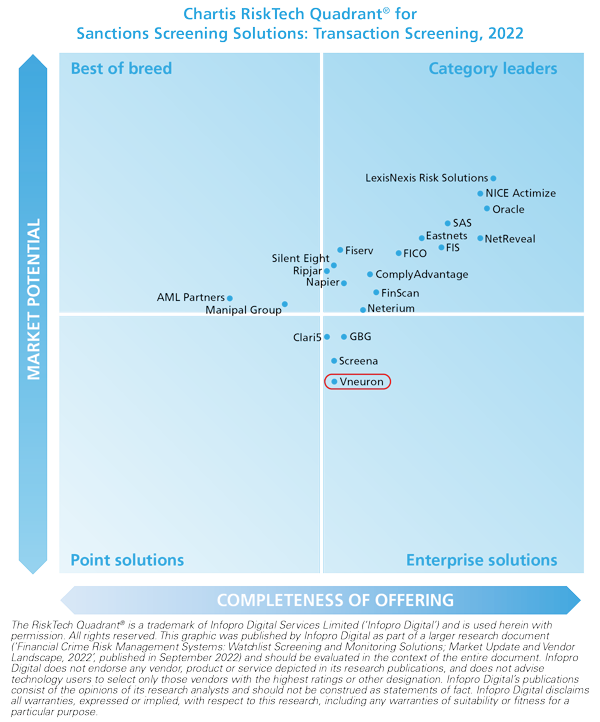 Reis™ TFS, a flagship product of Vneuron, is being ranked as one of the best enterprise solutions in the market by Chartis Research Group.
Technology has always been at the forefront of innovation and we are no exception. Our Reis TFS™ offers a secure and effective solution in addressing the risk of money laundering, terrorism financing and other emerging global risks.
The software helps screening transactions for anomalies to ensure compliance with anti-money laundering (AML), counter-terrorist financing (CTF) rules and regulations as well as other localised laws that affect the financial industries.
Reis™ TFS is used by institutions of all sizes to screen local, cross-border transactions and swift/non-swift transactions. Reis™ TFS checks for red flags in financial transaction activity by intelligently looking at all points in the transaction life cycle from customer information, transaction rules, and financial institution rules. We believe that this makes it a game changer in the fight against financial crime.
Being an enterprise solution provider for transaction screening solutions a solution in Chartis report, is the result of hard work, continuous efforts and market searches to develop our Reis™ TFS solution to be more efficient than other solution providers in the market.
Vneuron Risk and compliance Enterprise solution for sanctions screening solutions: Transaction monitoring 2022: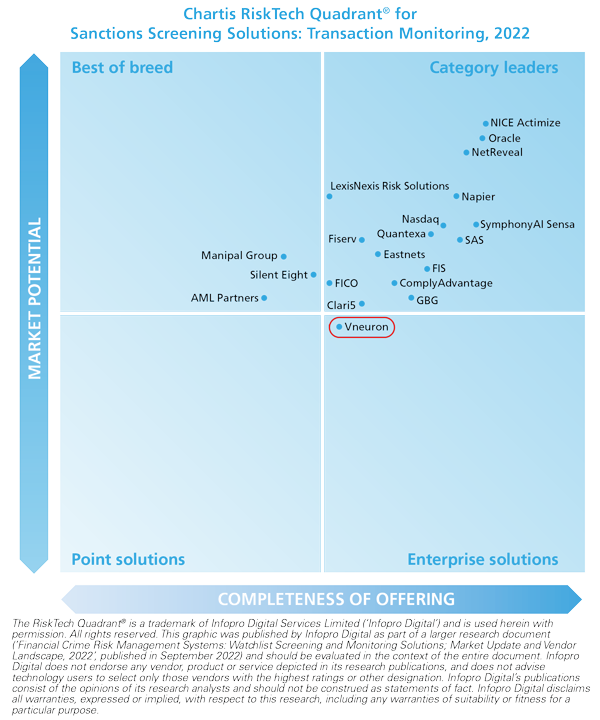 Vneuron's positioning in this quadrant showcases its solution Reis™ AML high performance in terms of data methodology, speed and real-time capabilities, packaging solution deployment, reporting, and audit trail.
About Vneuron
Global leader in AML compliance solutions helping more than 200 customers in the digitalization and transformation of their compliance processes and systems in more than 55 countries. Its complete Risk and Compliance solution covers name and sanction screening, transaction filtering and monitoring, automated risk assessment and alert generation, and reporting.
About Chartis
Chartis Research is the leading provider of research and analysis on the global market for risk technology. It is part of Infopro Digital, which owns market-leading brands such as Risk and WatersTechnology. Chartis' goal is to support enterprises as they drive business performance through improved risk management, corporate governance, and compliance, and to help clients make informed technology and business decisions by providing in-depth analysis and actionable advice on virtually all aspects of risk technology. Chartis focuses on risk and compliance technology, giving it a significant advantage over generic market analysts. The firm has brought together a leading team of analysts and advisors from the risk management and financial services industries. This team has hands-on experience in developing and implementing risk management systems and programs for Fortune 500 companies and leading consulting firms. Visit www.chartis-research.com for more information.
If you want to know more about our solution, contact us.