Digital Transformation and Operational Excellence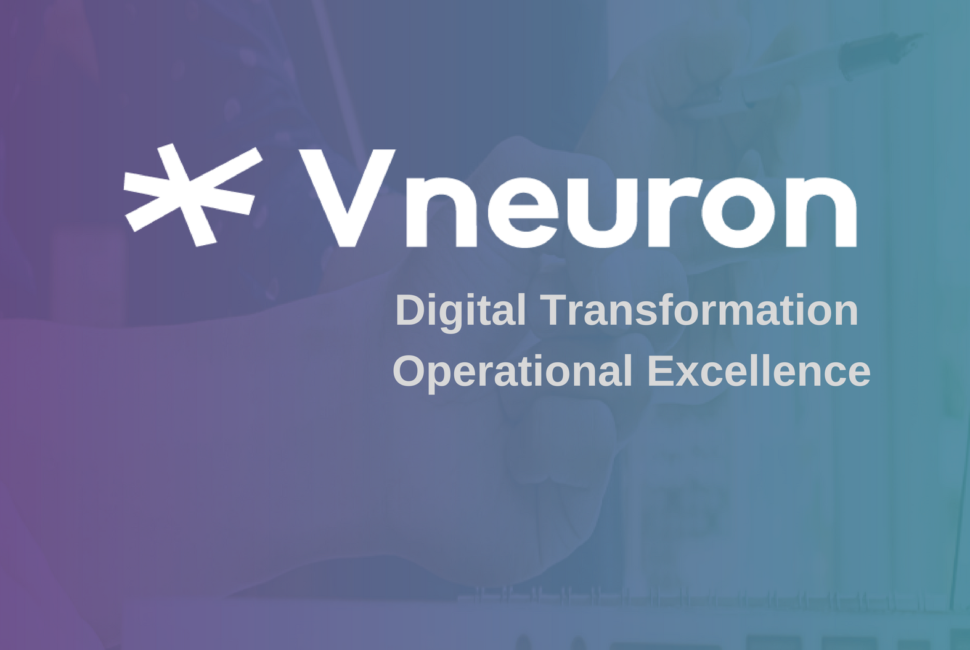 We are hearing about digital transformation almost everywhere these days in social media, conventions, panel discussions, keynotes, articles and studies. It's been loud and clear that digital transformation is the revolution that's going to raise enterprises and businesses to the top. But what really is digital transformation? What's behind this buzzword? And why it seems to be so important to business evolution?
What really is digital transformation?
Let's start with defining the term, as the Global Center for Digital Transformation says "Organizational change is the foundation of digital business transformation".
There's not a clear, applied to all definition to digital transformation because it looks different for each company. However, generally it is the integration of new digital technologies that lead to fundamental changes in the work process and business operations. It is as well a big cultural transformation that needs organization, continued challenges and go beyond the long standing business processes allowing new and fresh mindsets.
What's behind this buzzword?
Digital transformation have earned itself a huge success in the business world and became the most talked about topic these days for a simple yet important reason; the word transformation means change, evolution and renovation which is everything our world is going around hence the buzz came from, since the entrepreneurial society is not expelled from the hype of "change" and "new" that's going on around.
Why it seems to be so important to business evolution?
In order to know the importance of digital transformation, keep in mind that nowadays if a business doesn't evolve and keep up to the speed of technologies it risks to fail. On top of high failure risk, most entrepreneurs are very conscious about the digital stakes they are facing.
Statistics in Tunisia
In this matter, EY the multinational professional services firm, has conducted a barometer study* about Tunisian enterprises and Tunisian entrepreneurs' perspectives where they have expressed their opinions about digital transformation.
According to their statistics, 71% of the solicited entrepreneurs have expressed that digital transformation's impact is highly important.
*Barometer Study Conducted by EY http://www.ey.com/Publication/vwLUAssets/ey-barometre2018-des-entreprises-en-tunisie/$File/ey-barometre2018-des-entreprises-en-tunisie.pdf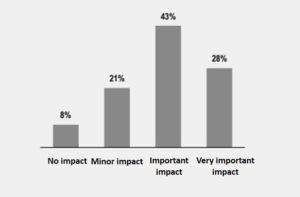 Figure 1: The Impact
Although, based on EY's barometer, there has been a certain heterogeneity when it comes to strategies, 18% stated that they don't have a transformative plan yet while 22% have had their digital transformation strategy set, the remaining 26% are still ruminating.
For those enterprises who have considered to invest in their digital transformation, EY have asked about technologies to be put in place and the one that stood out is analytics and Big Data with a percentage of 67%. Others have expressed interest in Internet of Thing IOT and Artificial Intelligence.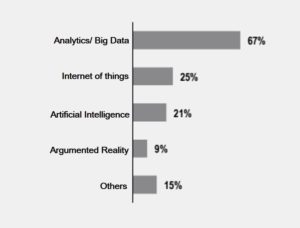 Figure 2: Principal Technologies
As commonly known, every change is done step by step and with something as big as digital transformation leaders organize these steps by priority of importance.
In Tunisia, according to EY's barometer the most important priority is Data Analytics and operation then Information Systems implementation, client experience improvement and scan/process automation.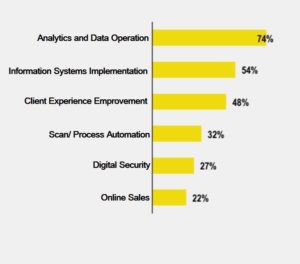 Figure 3: Priorities
It is clear now that the lead to digital maturity and full digital transformation is Big Data, AI and full workflow automation.
The road to Digital revolution
In order to guide companies through their digital transformation, Vneuron offers innovative, business oriented, AI/Machine Learning cognitive technologies and solutions.
The cognitive technologies offered by Vneuron are the collection of structures/systems and strategic methods that made it possible to automate certain functionalities that not until very long were reserved to the human mind.  To give a label to it, it's mainly the world of Machine Learning, Deep Learning, Machine Comprehension and Natural language processing that are used now in most of Vneuron's automation processes, information and management system.
Vneuron is all about digital transformation and providing to its clients the best transformation and digital experience with a set of technologies compatible with every company from financial institution, government to health care, services and retail.
The Vneuron offer for a complete digital transformation comes with a number of various products like Averroes™, Reis Suite, ChatBots, RPA, etc.  Although, it can be divided into the following global Spark Solutions:
The Digital Experience: It's a complete full featured solution that enables enterprises to renew their client experience using new communication channels. It grants as well the integration into digital processes and content steering. This solution is empowered by developed processing request formulated in Natural Language, and the fastest way to deploy it is through Chatbots**. This offer is able to revolutionize client relations for financial institutions and telecom operators.
** Conversational AI Chatbot solution deployed by Vneuron on Facebook https://www.facebook.com/Vneuron.bot
The Operational Excellence: this is dedicated to reinforce enterprises' performance through targeted tools that enables to conduct the company's activities even the critical ones. It ensures as well organization by decision support modules. This solution is adaptable depending on the client's line of business.
Taking for example Retail companies, this offer can be adapted via negotiation support systems applied to goals achievement, and suppliers' litigation cases as well. For a second frame of reference, this Operational offer may be deployed in public administrations while it ensures an integrated management system for the ministry's activities.
Risk and Compliance:  through a suite of risk and compliance suite, it is now possible for every institution under compliance regulations to be efficiently compliant to regulations and be protected against operational risks. It covers a large range of domains like: KYC (Know Your Client), AML (Anti Money Laundering), ORM (Operational Risk Management) and FATCA (Against Terrorist Financing). This solution is now the most complete regulatory compliance technology on the market.
Business automation: Electronic Content Management ECM and Business Process Automation BPM are the key factors Vneuron's Spark Solution the DXP, Digital Experience Portal. The ECM offer is highly rich with functionalities that cover a large area of ECM related requirements like document referencing and tracing, scan and indexing, automatic content flow, version management, statistics and audit trails, and data security.
Spark Your Business
Digital transformation is no longer restricted to large scale enterprises, is it now accessible to every organism desiring to move into the digital world. In order to enhance their business and modernize their daily operations efficiently, entrepreneurs should trust these major changes to qualified experts with customized counselling and suitable Spark Solutions.